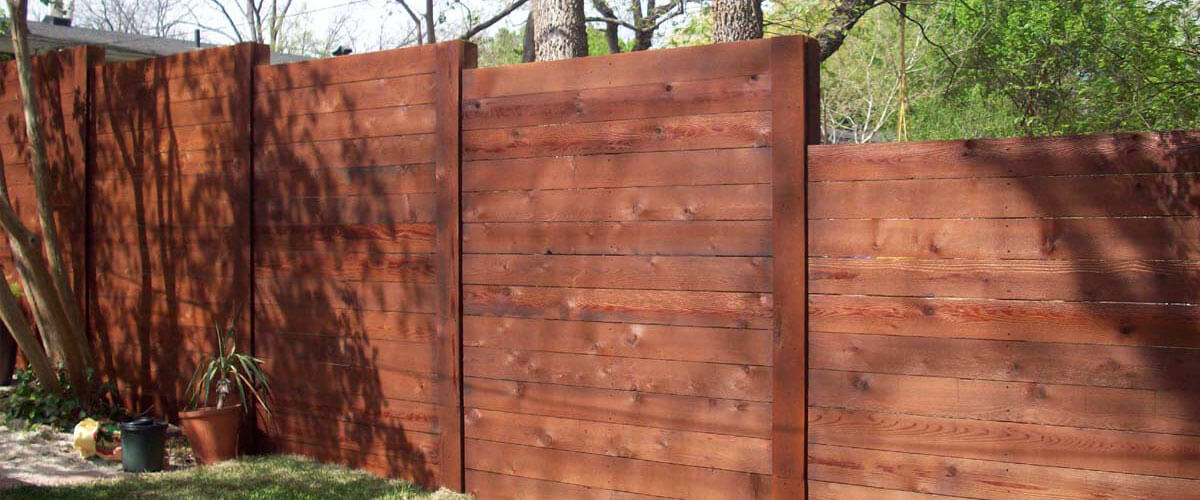 Austin Wood Fence Installation
Wood fencing is one of the most popular fence styles in Austin, Texas. Whether you need privacy for your backyard or want to keep your property secure, Apple Fence Company can help you choose and install a wooden fence that meets your needs. When installed by fencing professionals, a wood fence can last up to 20 years. Our selection of wood stains and clear sealants contribute to this extended lifespan while preserving the look of your fence. Additionally, we allow you to choose the widths and accents of your fence, so you're left with a wooden fence that looks exactly like you imagined it.
Quality Wood Fence Materials
When considering a privacy fence, customers often look at wood fences made out of either two materials: treated lumber or Western Red Cedar.
Treated lumber fences tend to last longer when exposed to the elements, except when it comes to unpredictable Texas weather. Austin's tendency to switch from extreme heat to extreme cold can cause your wood fence to warp and bend, leaving you with a less attractive fence. To compensate, we use metal fence poles to support the panels.
Western Red Cedar fences, on the other hand, last longer than treated wood fences. This is because Apple Fence uses ¾ inch boards to ensure its strength. Additionally, the cedar is naturally resistant to termites and insects that tend to damage other types of wooden fences.
Stylish Wood Fencing
At Apple Fence Company, our wood fence experts can install your fence in a variety of styles, allowing us to match your practical need for a privacy fence with the finish of custom carpentry. For example, you can opt for a cap and trim fence or board on board fencing to change the look of your yard. If you're looking for a wood fence that will make both you and your neighbor happy, you might consider our good neighbor privacy fence which delivers aesthetic appeal to both sides.
If you're in need of something entirely different for your Austin or Leander home, consider one of our less traditional fencing options, such as horizontal fencing, bull panel fences, Western Red Cedar privacy fences, or split rail fences. Our specialty is creating the right fence for you, so give us a call or contact us online so we can help you choose the right option for you!