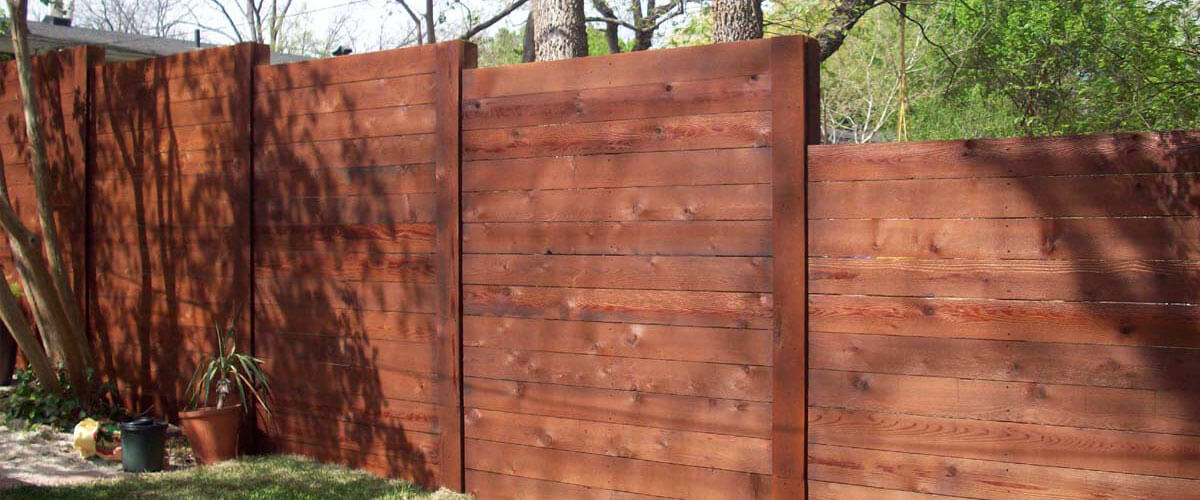 Horizontal Wooden Fences in Austin, TX
A horizontal wood fence may not be on your radar, but if you're a property owner, it should be. Choosing a wooden fence for your home can be a challenging task — balancing budget and style with practicality and durability. Here in Austin, however, horizontal fences have become increasingly popular because they offer the best of all worlds.
Customizable Horizontal Wooden Fencing
Apple Fence Company offers a variety of wooden fences in Austin and Leander, Texas. All of our fences are completely customizable, allowing you to choose the option that best complements your home. Because our fences are custom-made, you can be sure your horizontal wooden fence will stand out — a plus if you're hoping to eliminate the cookie-cutter feel of your Austin neighborhood. For example, you might choose our modern horizontal fence, opting for a slotted design, choosing to space the pickets apart, or creating an entirely different design with the pickets.
Finished Horizontal Wood Fences
Once you have opted for a horizontal wooden fence that suits your style and property, you'll need to decide how you'd like to finish it. When you choose a quality material like Western Red Cedar, paint should never even enter your mind as a finish. Instead, you should consider using a clear sealant to ensure durability and allow the natural wood's beauty to shine through. If you'd like to preserve the natural cedar finish, you can leave your fence entirely untreated. If you want to change the look or make your horizontal wood fence stand out even more, you can even stain the fence using one of the several options we offer. Whatever you design vision is, Apple Fence Company can help. Check out our fence design gallery for inspiration or give us a call to request a free estimate.
If you have any questions about our horizontal fences, please be sure to contact us and we'll answer your questions!