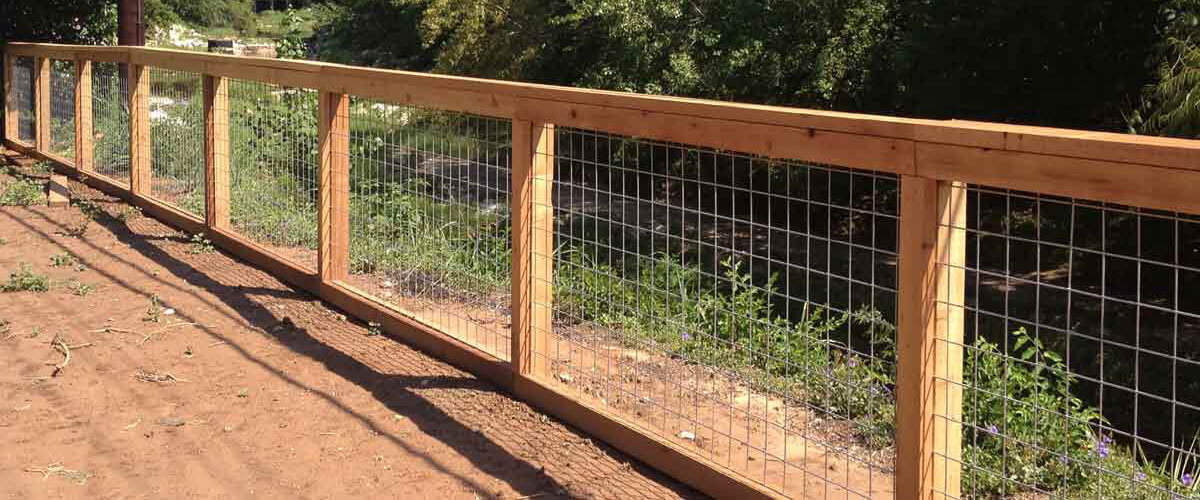 Bull Panel Fences for Livestock
Livestock fencing is most often used by those who have animals to protect. If you have a farm or ranch in Leander, Cedar Park, or the surrounding areas, a bull panel fence may be a good option for your property. Not only does this type of fence offer sturdy protection, it also maintains open views across your property so you can keep track of your livestock at all times.
Austin property owners love this wood and metal combination fence too! Constructed by framing galvanized square panels inside a wooden frame, a bull panel fence allows property owners to protect the views of their property rather than inhibit them with other types of fences. When you choose a bull panel fence, you can opt for a frame made with treated wood or Western Red Cedar, though we highly recommend the strong and durable cedar when erecting a fence over four feet tall. Customers should also consider Texas weather as treated lumber and cedar respond differently. In the extreme Texas heat, a treated wood fence can warp, leaving your fence vulnerable to failure. Opting for a Western Red Cedar frame, however, offers you maximum durability.
Additional Uses for Cattle Panel Fences
While cattle panels can be used to create pens for livestock such as cattle, pigs, sheep, goats and horses, they can also be used to protect your prized garden! If you have local wildlife that likes to strip your tomato plants or lettuce leaves, a cattle panel fence can give your produce a fighting chance. Best of all, this type of fence will keep your plants and vegetable visible to you and visitors alike! If you're ready to discuss what you hope to achieve, contact us today! We'll recommend the best fence for your needs and give you a free quote for your project.