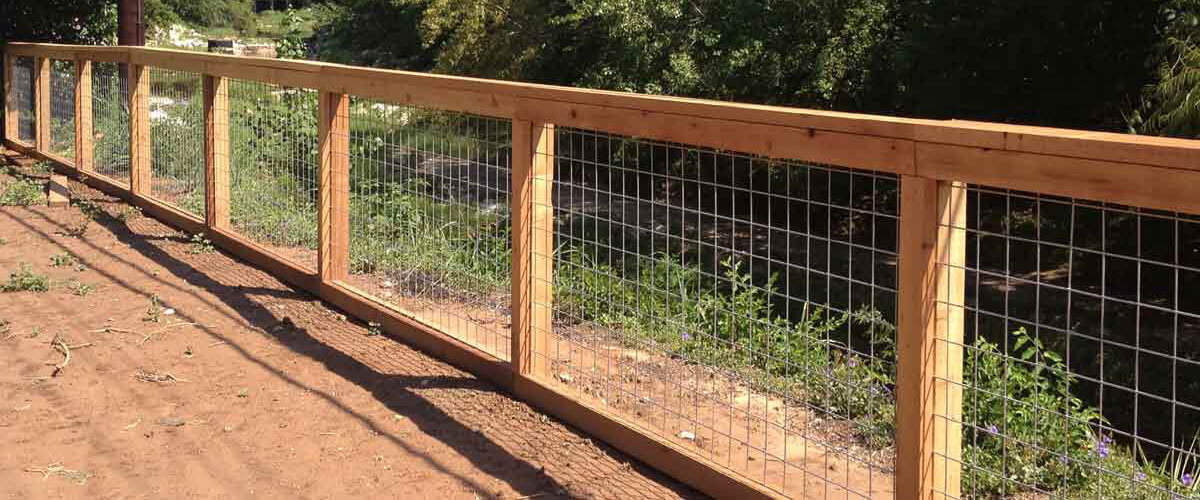 Bull Panel Fence Installation
Livestock fencing is, obviously, most often used by those who have animals to protect.  A cattle panel fence is one of the most frequently chosen options in those cases, because it offers sturdy protection while also maintaining views across the property.  For those same reasons, a fence like this may be a good option for your garden or property line fencing needs.
Austin property owners love this wood and metal combination fence, the cattle panel fence.  We construct this fencing option by framing galvanized squared panels inside a wooden frame, which allows you to protect the views of your property rather than inhibiting them with other types of fences.  When you choose this option, you can opt for a frame of western red cedar or treated wood, though we highly recommend the strong and durable cedar frame when you are erecting fencing that is more than four feet tall.  Also, think about the weather in your area, because treated lumber responds differently than cedar when sudden weather changes happen–as is almost certain in the fickle Texas spring and fall.  In those conditions, treated lumber can warp, leaving your fence vulnerable to failure.  Opting for a cedar frame, though, offers you maximum durability.
Cattle Panel Fence Uses
Obviously, livestock fencing is primarily used to house livestock.  These fences can be used to create pens for cattle, pigs, sheep and goats, or horse containment areas.  Opting for this type of fence for these scenario ensures not only the the views of your property are not cut up with ugly fences, but also that you have sturdy protection for your valuable animals.  Opting for a cedar frame also may help to eliminate some of the tedious repair work on less sturdy fences.
But don't forget the options for your prized garden! If you have local wildlife that likes to strip your tomato plants or lettuce leaves, livestock fencing can give your produce a fighting chance.  Contact us so that we can come take a look at your property and talk to you about what you're hoping to achieve. We'll recommend the best fence for your needs and provide you with a free quote for you and your project.
See more samples of bull panel fences.